GIMI
Forensics Research
Geoforensics and Information Management for crime Investigation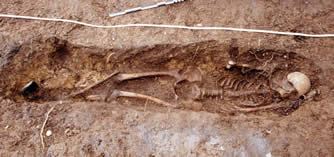 The GIMI network aims to find ways in which new technologies can help in the forensic investigations of crime scenes, such as locating the graves of murder victims, uncovering buried items of evidence and helping to narrow down areas of search for the police.
The network draws together the expertise of over 40 scientists and forensic professionals from five countries, who will review and evaluate the potential for using non-invasive methods in forensic investigations. Their assessments will lead the way for interdisciplinary research and development work which will provide innovative solutions to the challenges in this field.
New means of representing and communicating data will be evaluated, focusing upon virtual reality media and visualisation tools. The aim will be to explore the potenital for shared 'environments' for interpretation of ground measurement imagery, geographic data, and methods for communicating results to a range of different disciplines.
The network will be divided into four sub-groups: forensics, analytical, instrumentation and communication.
It is anticipated that the principal beneficiaries of the network activities will be Police Forces, NCPE, forensic laboratories and legal institutions, as well as private companies offering forensic analysis.
Internationally, academic beneficiaries will be scientists who strive to understand the complex interactions between soil and vegetation.
The GIMI network is funded by the Engineering and Physical Sciences Research Council (EPSRC) and is hosted by the Macaulay Land Use Research Institute. The EPSRC Page for the GIMI network can be found here.
Project contact is Professor David Miller.

SOILFIT is another EPSRC funded forensics project hosted by the Macaulay Land Use Research Institute. Soilfit investigates the integration of soil fingerprinting techniques for forensic applications.