International Research
Introduction
This page has been mothballed.
It is no longer being updated but we've left it here for reference.

The problems of agriculture in Asia are many and variable. There is a huge climatic variation from rangelands in parts of China to tropical rain forests in Indonesia and Malaysia. The problems in most of Asia are to some extent caused by the lack of arable land, relative to the population density. China, for instance, has only 7% of the global arable land, but 22% of the global population.
KEY ISSUES
Making better use of existing biomass without causing environmental degradation
Matching livestock production needs to the local feed resource base since importing feeds is generally uneconomic
Improving the local feed resource base. The methods used will depend on the local environment and the socio-economic conditions. Constraints can only be identified correctly with the participation of the target groups involved
WE CAN OFFER: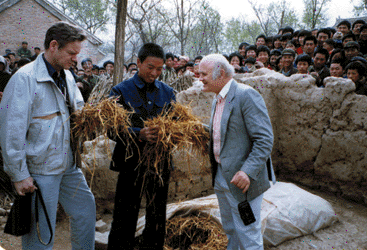 The application of systems methodologies to the study of livestock systems has been pioneered at the Macaulay Land Use Research Institute and we have a strong international reputation in research and consultancy on the major issues facing rural populations in these areas.
Expertise in livestock production, including animal nutrition, feed resource management, feed evaluation, feed preservation and feed improvement
Experience in project identification, evaluation and project management
Experience in livestock systems and their interaction with plants and soil and their place in rural development
Experience in rangeland ecology, including interaction with domestic and wild herbivores
Expertise in grazing management, forest grazing, forest degeneration
Interdisciplinary teams with an integrated approach to rangeland and watershed degradation assessment and rehabilitation
Training in appropriate laboratory techniques involved in feed evaluation and animal nutrition. We can offer training courses here at the Macaulay Institute in aspects of feed management and we can conduct training courses overseas with an emphasis on systems management, feed evaluation, feed preservation, feed improvement and grazing management
SOME RECENT PROJECTS
Developing agroforestry systems for the Southern Hill regions of the Yangtze River in Sichuan as part of the Three Gorges Project, with the Institute of Soil Science in Nanjing (The Royal Society and British Petroleum PLC, with Chinese Academy of Sciences. 1997-2000)
Mineralogy and chemistry of Chinese clay deposits and rocks (Watts Blake Bearne and Co, with Zhejiang University 1998-1999)
Characterisation, management and utilisation of red soil resources of southern China, (European Commission, with Zheijiang University 1994-2000)
Improving the productivity and sustainability of crop systems on fragile slopes in the highlands of South China and Thailand, (European Commission)
Feed resource management projects in East and Central Java and in North and Central Vietnam (DFID)
Upgrading of feed resources in China for beef and dairy buffalo production (BESO)
Nutrition courses in feed management and animal nutrition in Indonesia, Vietnam, China and Thailand (IAEA, DFID)
Utilization of sorghum stovers in India (ICRISAT)
Identification of livestock research projects in Nepal, Bangladesh, Mongolia and Vietnam (DFID, IAEA)
Training course for grassland specialists from Qinghai Province, PRC (EU)