This page has been mothballed.
It is no longer being updated but we've left it here for reference.
Animal species
---
4 types of fibres are involved in this project. They come from different species of animals

Angora goats (mohair)

Angora rabbits (angora)

Cashmere goats (cashmere)

Finewool sheep (fine wool)

---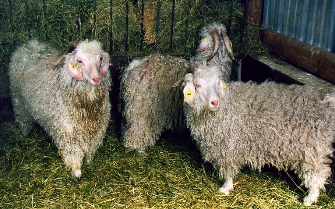 French Angora Bucks
Angora goats produce 3-4 kg mohair/year (22-35 microns). They are shorn twice per year, in spring and autumn. Mohair is produced in a number of European countries, significantly France, the UK and Denmark. Production on a smaller scale takes place in Spain, Portugal, Italy and Germany.
The goats have a single coat, with non-medullated fibres. Sometimes, some medullated kemp fibres can be found in the coat.

Top of page
---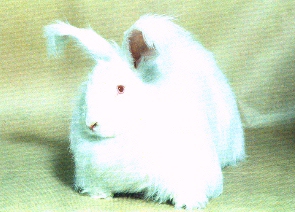 French Angora rabbit
Angora rabbits produce approximately 1 kg of fine (10-18 microns), silky fibre per year, over 4 harvests. Angora wool is harvested by plucking following depilatory treatment, shearing or by cutting with scissors. Angora is mainly produced in France and Germany.
All the fibres are medullated. There are two types of hair:
-long, coarse guard hair (or bristle), 10 cm length, 30-40 microns
-short, fine down, 50 times more numerous than bristle, 6 cm length, 15 microns.

Top of page
---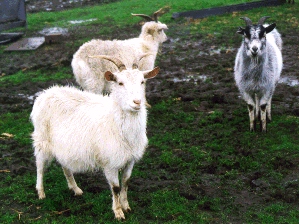 Cashmere goats in Scotland
Cashmere goats are not a breed as such, as the fine downy undercoat (12-18.5 microns) is produced by many breeds of goats. Production is variable, but in a range of 50-300g per year, shorn before, or combing during, the spring moult. The goats used are the result of selective breeding using Feral Scottish and imported genetic material. Commercial herd size remains small, the largest herd being the breeding programme's elite herd of some 450 does at the MLURI Research Station in Sourhope, Kelso. Average size in the UK is 50 breeding does.
The double coat is formed of some coarse, long and medullated guard hair (30-100 microns, 6-20 cm length) and some fine, innner coat, non-medullated (12-18 microns, 4-8 cm).

Top of page
---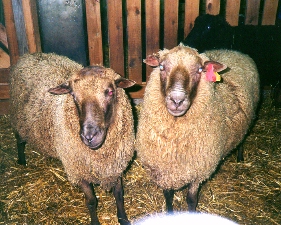 Finnsheep from Finland
It refers to various breeds, usually derived from the Merino, including the ultrafine Saxon Merino, the newly developed Lomond and Bowmont breeds, Rambouillet, Est a laine, Ile de France and Merinofleischaf which produce very high quality wool with a diameter of 15-23 microns, harvested by shearing in early summer. There are other European breeds with fine wool, such as the Shetland or the Finnsheep, that are not related to Merino. In addition, there are a number of breed that produce speciality grades of wool, selected not only on fibre diameter. They are produced in small quantity to meet some niche markets. The Astrakhan (colour, style) is one of them.

Top of page
---