NITREX Project
---
The impact of nitrogen in forest ecosystems is the underlying theme of the NITREX project. It is an integrated, interdisciplinary research project which address the role of nitrate and ammonium in acidification of soil and water. NITREX is a consortium of experiments throughout Europe, where eight sites were selected spanning a range of nitrogen deposition. The factors and processes which effects nitrogen saturation in forest ecosystems are studied under several scenarios of nitrogen deposition.
Objectives of NITREX
Through the collation of experimental data at the ecosystem scale, the overall objectives of NITREX are (1) assess the risk of nitrogen saturation due to nitrogen deposition and (2) assess the recovery of nitrogen saturated systems in response to decreased deposition.
Location of the NITREX sites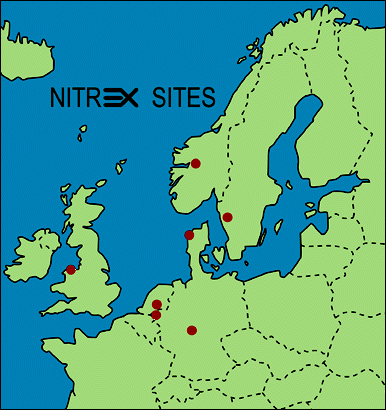 RESEARCH PROJECTS ASSOCIATED WITH DYNAMO