THE STATE OF SCOTLAND'S FARMED ENVIRONMENT 2005
10. SCOTTISH AGRICULTURE AND CLIMATE CHANGE
PRESENT
The UK is party to the UN Framework Convention on Climate Change. Under this, the 1997 Kyoto Protocol set legally binding targets under which the UK must reduce emissions of a "basket" of six GHGs to 12.5% below baselines (1990 for CO 2 , methane, nitrous oxide, and 1995 levels for fluorinated compounds) by 2008-2012 (Scottish Executive, 2005). At present the Scottish climate change programme commits Scotland to achieving an "equitable share" of the UK 's Kyoto target. This share has not yet been specifically defined but is taken as "taking action in the same or similar areas as the UK Government, where we have the devolved powers to do so. " Scotland 's overall GHG emissions fell 5.7% from 1990 to 2002 (71.6MtC). Figure 10.1 shows the sectoral share of this change.
Despite the overall reduction,emissions estimates actually increased for energy supply, land use change and transport. In their evidence to the Environment and Rural Development Committee (Scottish Parliament, 2005) SEPA indicated that the reduction in Scottish emissions appeared to be "an inadequate contribution to the UK 's domestic target" .
Scotland 's contribution to the UK 's domestic target for reductions in GHG emissions is currently inadequate (SEPA).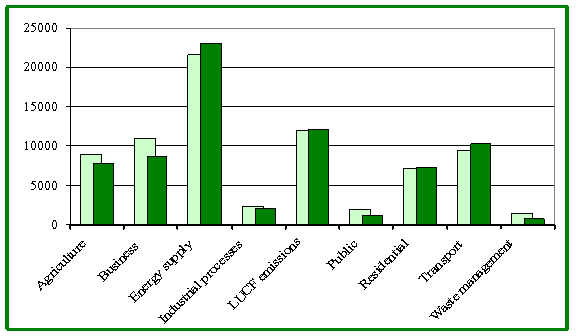 Figure 10.1: Sectoral GHG emissions for Scotland 1990 and 2002 in equivalent mass of CO 2 (Kt).
AGRICULTURE, LAND USE CHANGE AND FORESTRY >>