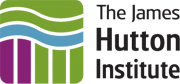 Reforming Agricultural Support
Overview
The Scottish Government is currently considering how financial support for agriculture and rural development can best be tailored to deliver sustainable economic growth. The Inquiry into Future Agricultural Support for Scotland (Pack Inquiry) was commissioned to make recommendations that would allow Scottish Government to make informed policy decisions that will shape the future direction of agricultural support payments in Scotland.
To help inform the Pack Inquiry, the LADSS team at Macaulay Land Use Research Institute were commissioned to carry out the study entitled "Modelling Scenarios for CAP Pillar 1 Area Payments using Macaulay Land Capability for Agriculture (& Less Favoured Area Designations)".
Modelling Scenarios for CAP Pillar 1 Area Payments using LCA and LFA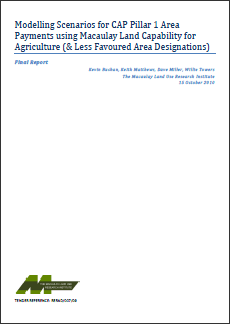 In 2009, the Single Farm Payment Scheme (SFPS) was the single largest support scheme for Scottish farmers with a total value of €648 million. For the majority of farmers it is paid on a historic basis using the level of activity in the reference period (2000 to 2002). Current European Commission rules also allow for the scheme to be administered on an area basis and there are also opportunities to differentiate support rates according to some objective criteria – for example, land quality.
Against this background, this research study has assessed the redistributive impacts of scenarios where the scheme is designed using the Macaulay Land Capability for Agriculture (LCA) classification system and the Scottish Government Less Favoured Area Support Scheme (LFASS) designations. The project has delivered a definitive business level analysis of the impacts of alternative scenarios for area payments for all existing claimant businesses and provides an indicative analysis of the additional areas that are likely to be included within the scope of an area-based scheme.
Ten scenarios are presented in the report. Five of these are based on varying rates of payment by LCA class, including a scenario with a single flat rate applied. A further three scenarios use LFASS designations as a basis for setting payment rates. Two additional scenarios indicate the effects of adding a minimum stocking rate eligibility criteria for forage area.
The final report (PDF) for this study is now available. It has also been published on the Scottish Government website.
Inquiry into Future Agricultural Support for Scotland
One objective of the Pack Inquiry was that it examine and make recommendations on how support to farmers under Pillar 1 of the Common Agriculture Policy could be distributed in future. In its Interim Report the Inquiry presented a scenario for replacing the current historic model of the Single Farm Payment with one that makes area payments based on the Macaulay Land Capability for Agriculture (LCA) classification.
Following a consultation process and further work the final Pack Inquiry report has now been made available. The final report no longer proposes LCA as the basis for the calculation of area payments. Key recommendations from the final report include:
Basing future support on Less Favoured Area (LFA) Status to compensate farmers for the higher costs involved in meeting regulatory requirements
Farmers in LFA would be eligible for an area-based payment, a top-up payments and headage payments. Farmers in non-LFA would be eligible for area based and a top up payments
Introducing a new Scottish Beef Calf Scheme and lamb headage scheme
A Top Up fund to encourage competitiveness and help farmers tackle food security, climate change, biodiversity, and water and energy supply
Rural Affairs Secretary Richard Lochhead described it as "one of the most thorough pieces of work ever undertaken into farming support" and noted that it has "already caught the attention of Brussels". A spokesman for the European Commission said that it would "make a valuable contribution to Europe's work on the future of the Common Agriculture Policy."