Sustainable farming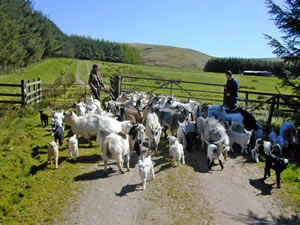 Farming systems (including forestry) remain the dominant land-using sector in Scotland and decisions within this sector have far-reaching economic, social and environmental effects at a range of scales.
Farms aren't just areas of land – they are systems that have coevolved with supply-chains, markets, consumer preferences, policies, and as part of the wider landscape and rural economy of Scotland.
Sustainability has social, economic, management and environmental components, and these need to be considered in a way that allows an all-round understanding of the issues facing stakeholders. To do this requires an interdisciplinary approach which assesses the range of 'alternative-futures', and engages the wider stakeholder debate.
To adequately address the sustainability of farming systems it is necessary to consider a wide range of spatial and organisational scales. Globalisation, trade, policy, supply-chains, business structures and stakeholder preferences all have profound effects on the sustainability of farming systems. The aggregate effects of decisions in farming systems also have significant spill-over effects into related sectors.
Conversely, environmental or ecological improvement schemes in water catchments or landscapes can have potentially profound effects on farming systems and individual farming businesses. Decisions made at the local scale (such as on an individual farm) can have profound effects on catchments, landscapes, economies and ecosystems. Environmental (and other types of) changes will also affect farming systems of all types.
The individual farm scale also provides a context where outcomes of research conducted at smaller scales (enterprises, herds, field, plots and individuals) can be considered in the context of land management businesses.
There are also opportunities to identify best-management-practice options with land managers, recognising that improved rural stewardship has to be achieved within an increasingly competitive and demanding business environment.
| | | |
| --- | --- | --- |
| Updated: 15 Jun 2016, Content by: KM | | |