Socio-Economic Research
Proceedings of Conference. 4th-7th June 2006, Edinburgh, Scotland.

Proceedings of Conference. 4th-7th June 2006, Edinburgh, Scotland.
Parallel Session 3
Session 3.1. Social Learning
Social learning in public participation for sustainability: measuring the quality of participatory approaches
Garmendia, E. and Stagl, S.
University of Sussex , England
Technocratic approaches and the accumulation of knowledge within past frameworks has been insufficient to tackle with contemporary issues of sustainability. As a consequence, the role of experts and "objective" scientific information to inform policy about uncertain and complex environments has been questioned in relation to issues such as nuclear power and genetically modified crops. Instead novel approaches that consider the inclusion of various and conflicting points of view in a deliberative context are increasingly used in the science policy domain. Nevertheless, to date the contribution of such approaches are rather ambiguous and criteria for assessing the quality of these processes are required. In the first part this paper argues that Social Learning (SL) should be considered central for participatory approaches for sustainability and it is also suggested as a quality criterion for the assessment of such processes. In the second part of the paper, after analyzing the role of SL within different participatory approaches a possible framework for its measurement is described. Finally, in the last part of the paper, this framework is applied to a real case study in Austria , within the ARTEMIS ( Assessment of Renewable Energy Technologies on Multiple Scales: a participatory multi-criteria approach . Funded by the Austrian Science Council (FWF) ) project, which discusses possible energy futures for Austria .
Full Paper
---
Dare we jump off Arnstein's ladder? Social learning as a new policy paradigm
Kevin Collins and Ray Ison
Open University , UK
Participation is now a central consideration of policy discourses at EU; national and local levels, particularly in relation to environmental resources. As it becomes a social expectation so the form, meaning and purpose of participation has diversified. While Arnstein's ladder of citizen participation (Arnstein, 1969) revealed that much 'participation' does little to broker a reassignment of power, this paper argues that it is perhaps time to jump off the ladder. In doing so, we suggest that an emphasis on social learning constitutes a paradigm shift in the thinking and practices of policy-making.
Our rationale is based on findings from several research projects on social learning for water resource management in the EU and UK . These suggest conventional policy responses to environmental problems (regulation; fiscal instruments; information) are only effective where there is pre-existing agreement on the nature of the problem and its resolution. In practice, many resource management issues are best described as 'messes' (Ackoff, 1974), with high degrees of interdependency; complexity; uncertainty; and multiple stakeholding.
These characteristics challenge notions of participation because no single group can pinpoint with confidence the nature of the problem and its solution. We explore how the term social learning rather than participation more accurately embodies the new kinds of roles, relationships and sense of purpose which will be required to progress complex, messy issues. The discussion leads to the conclusion that social learning can be understood as an emerging governance mechanism to promote concerted action, thereby enabling transformation of complex natural resource management situations.
---
Social learning – a useful concept for participatory decision-making processes?
Melanie Muro, Paul Jeffrey
School of Water Sciences, Cranfield University , UK
Public participation plays an increasingly central role in natural resource management despite little knowledge about what constitutes a good process or outcome. The mixed success of participatory processes prompts researchers and practitioners alike to constantly search for and develop new approaches, methods and models for public involvement. Recently, learning processes have been increasingly emphasised as a key component of the participation discourse, and social learning is especially cited as an essential element of (participatory) natural resource management. Social learning as it is discussed in the context of public involvement features a process of collective and communicative learning which is thought to lead to a shared understanding of the situation and agreement. Theories of social learning are considered useful models to inform the design of collaborative processes. However, we must acknowledge that so far there is only limited evidence about the role of social learning in participatory processes and therefore it is difficult to judge its usefulness as a prescriptive model. Moreover, we argue that the social learning model has a number of conceptual and practical weaknesses. Against this background we posit that research needs to focus on the underlying assumptions and claims made in connection with social learning, before proposing frameworks and methodologies to foster social learning in participatory processes. Furthermore, we argue that the debate needs to refocus on the question of what role social learning can reasonably play in participatory processes.
---
Session 3.2 Science meets participation
Third task science
Peter Moll
Science Development, Germany
The presentation will focus on recent developments for "third tasks" within science. Participation and interaction with the public as well as stakeholder involvement are some of the key issues. One should however be careful not to overlook traditions of "relevating" (H. Nowotny) and integrating social problems within the academic worlds and "make them fit" into what science makes of them and considers to be scientifically useful and rewarding social problems. This has led to highly complex modes of interaction between science and society which developed over centuries. With more recent demands on science e. g. for creating new forms of "sustainability science" with clear emphases on implementation and subsequent action, negotiation, adaptation and interpretation processes between science and society are highly topical again. The talk will summarize some aspects of the debate on the science – society interface and will highlight the experience from two cases: a move towards stronger support and acceptance of "third task" activities within science in Sweden and the mixed experiences from the "Science in Dialogue" Programme in Germany . From these experiences – particularly the failures and structural limitations these attempts have met – as well as from the theoretical critique of the science – society interface some conclusions may be derived for conceptualizing "sober participation policies" at EU or European national levels.
---
The response of scientists to deliberative public engagement: a UK perspective
Kevin Burchell
LondonSchool of Economics , UK
The purpose of this paper is to explore an important issue that appears to be somewhat neglected in work on deliberative and inclusive processes (DIPs) in environment and technology policy-making: the response of experts, especially scientists, to DIPs. Information in this area is clearly important to the future success of DIPs, in terms of identifying the barriers and opportunities that are presented by experts. More broadly, information about the responses of experts to DIPs is important in terms of the impact that increasingly prevalent DIPs might have on wider expert communities. As might be expected in an area that is somewhat neglected, the empirical evidence can be described as inconclusive. Some evidence is not particularly encouraging while other evidence is more positive. In the paper, I will explore some of this evidence and make conjectural comments on the implications that it might have for successful DIPs. Future research strategies for filling this empirical gap will also be explored.
---
Environmental empowerment through co-operation between civil society, universities and science shops
Søsser Brodersen, Michael Søgaard Jørgensen and Annegrethe Hansen
Department of Manufacturing Engineering and Management, TechnicalUniversity of Denmark (DTU)
The University based Science Shops were established in the 1970s in the Netherlands , and in Denmark and other countries in the 1980s and 1990s. The aim was to give civil society organisations access to scientific knowledge and to empower citizen participation regarding environmental and social improvements. It has recently been suggested that the role of Science Shops should change as a consequence of the stated increasing professionalisation of the Non Governmental Organisations and Civil Society Organisations, and of industry's increasing interest in introducing environmental management measures. Increasing internationalisation of the environmental agenda has contributed to this as well as a general acceptance of environmental considerations in industry policy and strategy. However, with departure point in three different Science Shop projects, the article proposes that Science Shops are still important for empowering citizen through access to scientific knowledge by raising and documenting environmental issues, by assisting citizens with knowledge supporting environmental sustainable activities, and by potentially raising alternative scientific agendas and develop alternative technological solutions. Thus, the article by underlining the role of science and Science Shops, address the debate on public understanding and participation in two ways: on the one hand by dissociating from the 'deficit thinking', in which citizens are regarded as lacking knowledge, and on the other hand by drawing attention to the importance of scientific and systematically argued knowledge as input in participatory processes.
---
Session 3.3. Evaluating participation
A mixed methods approach to evaluation of large scale participatory processes
Denise Bulling and Mark DeKraai
University of Nebraska Public Policy Centre , United States
Evaluation is critical to understanding how participatory processes work and how they can be structured to maximize the benefits of stakeholder and decision maker collaboration. This presentation provides a framework for evaluating stakeholder involvement in decision making in science and technology. Specifically, the following topics are covered: 1) the importance of incorporating program evaluation in processes that involve participation in decision making; 2) a review of models for evaluating participatory processes; 3) a new model for evaluating stakeholder involvement that incorporates a mixed method design; and 4) the advantages of a mixed model evaluation approach to inform the field about the types of participatory processes that work best for particular stakeholders, issues, and desired outcomes. The mixed methods model was used to evaluate the Public Engagement Pilot Project for Pandemic Influenza, an effort to involve citizens and stakeholders in policy decisions regarding vaccine distribution in the United States . Using this example, the authors describe how the mixed methods framework was used to jointly identify the evaluation questions with stakeholders and partners, select qualitative and quantitative measures, determine appropriate analyses, and effectively communicate results to decision makers and stakeholders. The implications for evaluating other public and stakeholder engagement processes are discussed.
---
Introducing a framework for evaluating the quality of methods to facilitate participatory assessments
E. Cuppen, M. Hisschemöller, C. Midden.
Institute for Environmental Studies, Vrije Universiteit Amsterdam , The Netherlands ,
This paper discusses a framework to assess the quality of participatory methods (e.g. Consensus Conference, Interactive Backcasting, Policy Delphi) to facilitate participatory assessments on complex and controversial issues. To be able to structure a complex or controversial problem, knowledge should be produced. This means that any knowledge, indifferent whose knowledge, should be communicated and understood. This requires articulation, confrontation and evaluation of (rival) points of view, and hence, an open dialogue. Methods have been developed to address mechanisms that obstruct or create an open dialogue. We refer to these mechanisms as biases. A bias is a distortion in the evaluation of another participant's input in the dialogue. We present an evaluation framework that consists of three biases. The bias of source concerns all distortions in the evaluation of another person's input that occur as a consequence of the (perceived) characteristics of that person. The bias of phrasing concerns distortions induced by the way the message is being phrased. The bias of attitude means that the evaluation of input is distorted because it is or is not in line with the attitude of the person who evaluates. We will illustrate this framework by explaining how methods may address the biases.
---
Measuring the intensity of participation along six dimensions
Karina Rasche, Matt Hare
Seecon Deutschland GmbH, Germany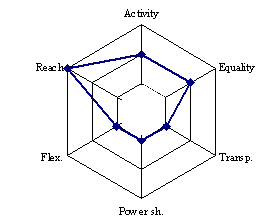 Existing concepts for describing and categorizing participatory processes do not capture clearly enough the differences between "more" or "less" participation. There is a diversity of ways of how to consult or actively involve stakeholders. How do we specify whether participation is done early or late in the process, with few representatives or the general public, with weak or strong influence on decision-making? Only if concrete terms can be found for describing the characteristics of a participatory process, we can effectively start discussing about what kind of participation should be encouraged under certain conditions. Therefore, a new concept to measure the intensity of a participatory process is developed by using a set of six dimensions: "activity", "equality", "transparency", "power sharing", "flexibility" and "reach". In each of these dimensions, a participatory process can reach a pre-defined high, medium or low level. The result is visualised as a cobweb diagram (figure 1), a so-called "intensity diagram", giving a clear overview over main characteristics of the whole participatory process. This concept has been applied to five water management case studies situated in Belgium , the Netherlands and Great Britain in order to support the planning, comparison and evaluation of the participatory processes.
Conference papers by Session


EC FPVI Science and Society SAS6-CT-2004-510636